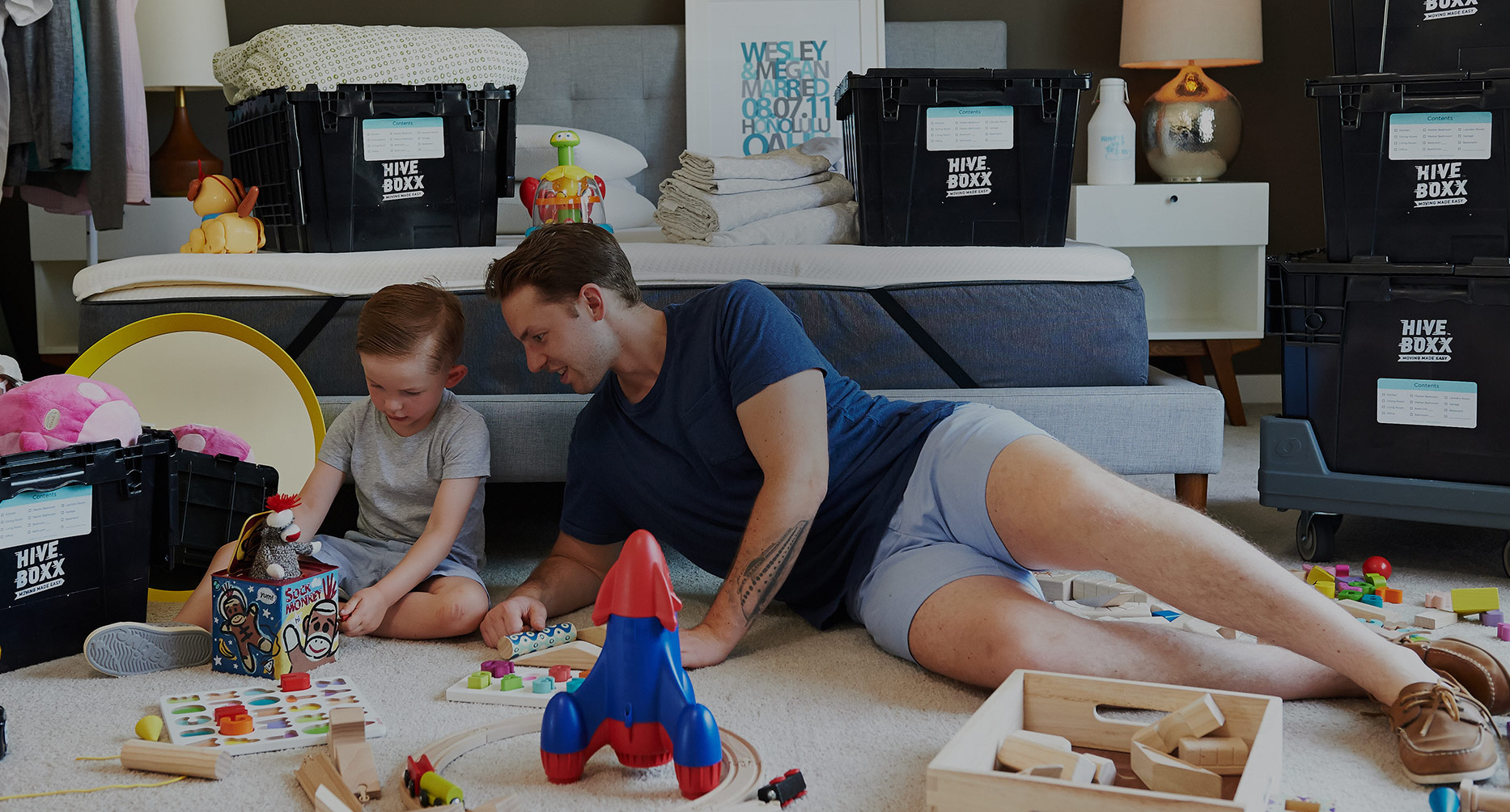 Answers to common questions
We know moving home or office can be a stressful experience. We've curated the following frequently asked questions to help steer you in the right direction with our green moving supplies.
What are you doing to keep your moving boxes safe from COVID-19?

We steam clean our reusable moving boxes and quarantine them for a minimum of 7-days between use so they are Coronavirus free (COVID-19). This ensures you have the safest boxes upon delivery to start packing. #WeGotThis

Is it really cheaper to use a HiveBoxx rather than a cardboard box?

Yes. Moving can be expensive and using cardboard boxes is a big reason why. They collapse, get wet, need assembling which takes up your valuable time, requires packing tape to assemble which adds additional cost and you'll most likely use them only once. Our green moving boxes are being reused time and time again allowing us to pass those savings onto you. Avoid the additional cost associated with purchasing cardboard boxes and packing supplies - Rent a HiveBoxx Moving Bundle today!

How big are the HiveBoxx's?

Our HiveBoxx's have the following dimensions: 26.9 inches long by 17.1 inches wide by 12.6 inches high (Large Box) and 27.9 inches long by 20.9 inches wide by 15.2 inches high (Extra Large Box).

How sanitary are the HiveBoxx's?

We steam clean and sanitize the boxes to an FDA-approved level to get them ready for the next happy customer. You can literally lick the HiveBoxxs' — although we ask that you don't.

Cardboard moving boxes absorb lots of dirt, bacteria and other things you really don't want on your stuff. Bedbugs can be an issue with cardboard boxes as they are soft and retain moisture, creating an environment that is more appealing for bedbugs. This is one of the reasons we don't recommend finding used boxes online or from the back of a store.

Our boxes are made from High Density Polyethylene (HDPE). This is a very dense and strong plastic that is great for moving but does not create an environment that will attract bedbugs.

Are you a moving company?

No. HiveBoxx specializes in sustainable moving supplies and leaves the heavy lifting to our moving partners. Let us know if you need labor assistance so we can coordinate that aspect of your move.

For moves needing some muscle, we provide eco-friendly moving boxes and supplies, and our moving partners tackle the labor, helping you eliminate the stress and hassle of moving. We've partnered with the best moving companies --- they'll show up with a truck to help you move your HiveBoxxes, furniture, and prized possessions, big and small.

How many HiveBoxx's do I need to pack and move?

Please refer to the Residential/Commercial chart on our pricing page to determine which moving bundle would best fit your moving supply needs. If you're between bundles and need additional equipment, you'll have an opportunity to add additional equipment to your order after you select a moving bundle.

Is there a delivery & collection fee? And does this fee cover both delivery and collection?

Delivery and collection are free on orders above $99.00 as long as it includes a Residential or Commercial Moving Bundle or Hive Essentials Kit (not including tax). There are no extra hidden costs! For orders under $99.00, our standard $76.00 delivery & collection fee will automatically be added to your order. If your order only requires delivery with no collection, the fee is $38.00 (i.e., Hive Essential Kits). If you have an existing order and need additional products or want separate pickups, there's an additional fee of $38.00 per occasion. The smaller shop items can be shipped via UPS, Fedex or USPS for a fee.

What days and hours do you deliver and pickup?

Our delivery days and hours will be Monday - Sunday from 7am - 6pm.

If you have a day and time that you'd like to receive your HiveBoxx's when we're not open, please leave your special request in the notes/comments section for your order. We'll contact you to discuss potential options in order to meet your moving needs.

Do I need to be home for the delivery & pick-up?

Yes. Upon delivery, we'll need you to electronically sign the HiveBoxx rental agreement. A copy will be sent to the email we have on file. During collection you need to be present to electronically sign the release form while we count and inspect your HiveBoxx's & Dollies.

What if I have a minor delay in our moving schedule?

If you have any scheduling conflicts during your move please contact us as soon as possible. We'll do everything we can to make accommodations for any unforeseen changes with your originally planned moving schedule.

What if I need more HiveBoxx's after my delivery?

If you need more HiveBoxx's please submit a new order through our website or text the local team servicing your area.

When you place a second order with us, we'll change the pickup date of the original order to match the pickup on the most recent order at no additional charge. Just add details of the original order to the notes section while placing a new order so we can merge orders together. If a new order is placed after your original order has been delivered our standard $38 delivery fee will automatically be added to your order if the total is under $99.00.

Do you recycle old HiveBoxx's?

Yes. HiveBoxx's are made from HDPE, #2 plastic. We are able to send retired HiveBoxx's to local recycling plants to be made into any number of HDPE products/items.

Where can I find additional information about HiveBoxx?

Our customers can find additional information about HiveBoxx as well as other products and services relevant to their moving needs by following us on our
social media outlets:

Are HiveBoxx's & Dollies Available for purchase?

Yes. If after your move you're happy with our 100% recycled plastic, reusable boxes, you're more than welcome to notify the driver who picks up your HiveBoxxes. Just tell the driver how many you would like to keep and they can process your purchase via our square mobile payment system and text/email you the receipt.

Why Are My FROGBOXES Being Delivered By HiveBoxx?

Frogbox is now powered by HiveBoxx in Seattle, WA, and Portland, OR! This new strategic partnership between Frogbox and HiveBoxx aligns our efforts to battle the cardboard box and reduce the environmental impact of moving.

What locations / markets does HiveBoxx currently service?

Glad you asked. We currently service Washington, Oregon, Texas, Saint Louis, Illinois, Arizona, California, New Mexico, Idaho, Minnesota, and Colorado but are quickly expanding.